Razones ilegales para un despido en Estados Unidos 💼⚖
Si eres un empleado en los Estados Unidos, tienes derechos que te protegen contra un despido injusto. Aunque tu empleador puede despedirte en cualquier momento con o sin causa, las leyes te protegen, pero esto no es completamente cierto en algunos casos. Veamos las razones para un despido ilegal en Estados Unidos y cómo puedes protegerte.
Tipos de despidos en Estados Unidos
Antes de continuar, es importante aclarar que no todos los trabajadores en Estados Unidos son despedidos de la misma forma. Aunque ser despedido ser conoce en inglés como termination (o en algunos casos, terminated), los dos tipos de despido más comunes son:
Despido por razones fuera de tu control  (

en inglés:

lay off) – Ocurre cuando eres despedido razones como cambios en la economía, reducción de personal, la compañía quiebra, etc. >> Detalles: ¿Qué significa lay off?
Despido por mal rendimiento o errores cometidos (

en inglés:

fired)  – Ocurre cuando eres echado de la compañía por tus propios errores, consecuencias de una mala actitud o mal comportamiento, etc.
>> Detalles: ¿Qué significa fired?
Sin importar la manera que seas despedido en Estados Unidos (fired o lay off), existen varias leyes que te protegen y varias razones legales por las cuales tu empleador no puede despedirte. Echemos un vistazo más de cerca a algunas de las razones ilegales para despedir a un empleado.
🚫 Razones ilegales por las que un empleado NO PUEDE ser despedido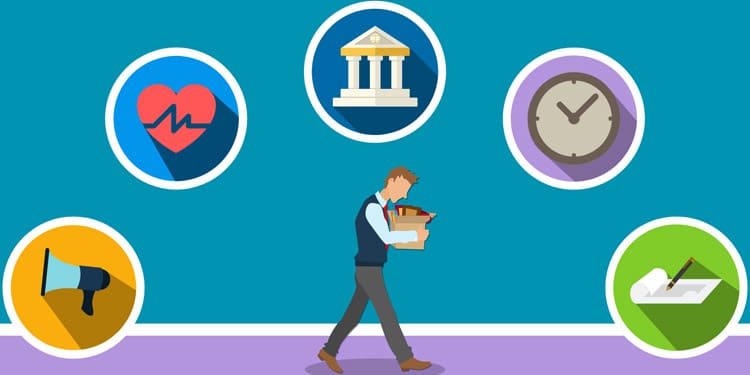 Primero que todo, ten en cuenta que esta lista no incluye TODAS las razones ilegales para despedir a alguien. Aparte de estas razones, también existen leyes federales, hay muchas leyes estatales individuales relacionadas con el empleo y el despido injustificado (

en inglés: wrongful dimissal). A continuación, se presentan algunas de los más comunes.
1. 👎 Discriminación
Las leyes de Estados Unidos estipulan que no puedes ser despedido por discriminación (

en inglés: discrimination). Por ejemplo, los empleados no pueden ser despedido debido a su:
Género
Sexo
Orientación sexual
Religión
Edad
Raza
Etnicidad
Origen nacional
… Entre otros
La mayoría de estas categorizaciones se consideran protegidas por la ley. Tu empleador podría enfrentar una fuerte acción legal, incluyendo una demanda por despido injustificado (

en inglés: wrongful termination lawsuit), si violas una ley de discriminación.
Recuerda: no se considera discriminación por el solo hecho de ser despedido, puedo tu empleador no puede despedirte simplemente por ser de origen Latino o por tu orientación sexual.
Así que, si un empleado está haciendo un mal trabajo, esa es ciertamente una razón sólida para ser despedido. Pero el empleado no puede ser despedido por su país de origen o religión.
2. 🤰 Embarazo
Despedir a una empleada porque está embarazada o por tener un problema médico relacionado con su embarazo es discriminatorio.
Las mujeres embarazadas están específicamente protegidas por la Ley de Discriminación en el Embarazo (Pregnancy Discrimination Act). Además, tienen derecho a hacer cambios o adaptaciones razonables durante el embarazo, de ser necesario.
Si cumples con ciertos requisitos (como haber trabajado para la misma compañía durante al menos 12 meses), también tendrás derecho a 12 semanas de ausencia por maternidad, como se estipula en Ley de Licencia Familiar y Médica (Family and Medical Leave Act o FMLA, por sus siglas en inglés).
3. ♿ Discapacidad.
Al igual que el embarazo, es ilegal despedir a alguien debido a una discapacidad. Esto también es considerado discriminación. Hay una ley específica que prohíbe este comportamiento: la Ley de Estadounidenses con Discapacidades (Americans with Disabilities Act o ADA, por sus siglas en inglés).
De acuerdo con la ley ADA, los empleadores no pueden tomar ninguna decisión de empleo, incluyendo la contratación y el despido, debido a una discapacidad o impedimento físico o mental, asumiendo que esto no impacte o limite su capacidad para realizar el trabajo en cuestión.
Cabe resaltar que la ley ADA se aplica a los empleadores que tienen por lo menos 15 empleados. También estipula que los empleadores deben proporcionar adaptaciones razonables a los empleados con discapacidades. Esto significar, por ejemplo, traer un animal de apoyo (

en inglés: emotional support animal) al trabajo, siempre y cuando esto no represente un peligro para la seguridad de otros.
4. 🚫 Ser despedido por represalias
Un empleado que presenta una queja formal o informal contra su empleador no puede ser despedido por hacerlo. A esto se le considera ser despedido por represalias (

en inglés: retaliation).
Por ejemplo, si una empleada hace un reclamo de acoso sexual contra su gerente, el empleador no puede tomar represalias despidiéndola. Asimismo, es ilegal despedir a un empleado que reporte cualquier tipo de derecho o queja.
5. 🗣 Quejarte sobre las condiciones de trabajo.
Similar a la ley de represalias, la Ley de Seguridad y Salud Ocupacional (Occupational Safety and Health Administration / OSHA, por sus siglas en inglés) estipula que es ilegal despedir a los empleados que presenten quejas sobre las instalaciones y/o condiciones de trabajo no cumplen con las leyes federales de salud y seguridad.
Los empleados deben tener la libertad de reportar violaciones de estas normas sin temor a represalias o temor a ser despedidos. La ley está en vigor para protegerte si necesitas denunciar condiciones de trabajo peligrosas o ilegales.
6. ⚖ La condición migratoria de un empleado
En pocas palabras, es ilegal despedir al empleado por ser un extranjero. Siempre y cuando el empleado extranjero tenga el derecho legal de trabajar en USA, esta no puede ser una razón para su despido.
De acuerdo con la Ley de Reforma y Control de Inmigración (Immigration Reform and Control Act o IRCA por sus siglas en inglés), los empleadores no están autorizados a despedir a los trabajadores que son LEGALMENTE elegibles para trabajar en los Estados Unidos.
Tu empleado SI puede despedirte si descubre que no tienes (o pierdes) el derecho legal de trabajar en Estados Unidos (ejemplo: si tu visa o permiso de trabajo expira). De lo contrario, tu empleador pudiera ser multado por contratar personas no autorizadas para trabajar en USA.
7. 🚫 Negarte a someterse a una prueba de detector de mentiras
Sería ilegal que fueras despedido si tu empleador te pide que te sometas a una prueba de detector de mentiras (

en inglés: lie detector test) y tú te niegas a hacerlo.
La mayoría de los empleadores no pueden despedir a los empleados debido a su negativa a someterse a la prueba del detector de mentiras. Esto está estipulado por la Ley de Protección del Polígrafo del Empleado, una ley federal. (Employee Polygraph Protection Act o EPPA por sus siglas en inglés).
Nota: algunos estados tienen leyes adicionales a este efecto.
Estas son algunas de las razones ilegales por las que no puedes ser despedido en Estados Unidos. Además de estas leyes federales, muchos estados tienen leyes individuales con respecto al despido injustificado.
Consulta con la oficina de trabajo del Departamento de Labor (en inglés, Department of Labor) de tu estado si sospechas que tu empleador te ha despedido ilegalmente. Allí encontrarás descripciones detalladas de violaciones, recursos y más, y obtendrás una mejor comprensión de si tu caso específico califica como despido injustificado.
Qué hacer si has sido despedido injustamente
Si sospechas que has sido despedido injustamente (

en inglés: unfair termination), es posible presentar una demanda contra tu empleador por el despido injusto. Si tienes éxito, se te puede recompensar con ciertos remedios equitativos. Un remedio equitativo será algo así:
Reincorporación: puedes recuperar tu trabajo y reincorporarte a la compañía (si deseas volver a tu trabajo anterior)
Orden de protección: Una orden judicial (conocida en inglés como injunction) contra el empleador para impedir que éste tome medidas que te perjudiquen
Compensación: puedes ser compensado por cualquier pérdida de salario o beneficios, cualquier gasto o costo de búsqueda de otro empleo o directamente causado por despido ilegal.
Obtener mejores beneficios: puede significar transferencia a otra sede de la compañía, un ascenso, un aumento de sueldo y borrar los errores en el archivo de la compañía.
Pago por trabajo perdido: Compensación por salarios perdidos al tratar de encontrar otro trabajo
Compensación por dolor y sufrimiento: Pago por cualquier angustia mental o confusión emocional, disminución en la calidad de vida causada por despido injusto.
Al ganar una demanda por despido injusto, podrás volver a tu puesto, recibir un ascenso, un traslado, un aumento salarial, etc. El objetivo de esta demanda puede ser devolverte a tu puesto de trabajo como si nunca hubieras sido despedido. Por supuesto, esto también implica una remuneración por los gastos y daños ocasionados.
Si estabas en camino a un aumento de sueldo, un ascenso, etc. pero lo perdiste debido al despido injusto, también tendrás el derecho de regresar a tu puesto con mejores beneficios o mejor salario.
¿Puede un abogado ayudarte con un despido injusto?
Si sospechas que tu empleador te despidió injustamente, debes ponerse en contacto con un abogado laboral con experiencia. Un abogado experto en casos de trabajo (

en inglés: employment lawyer) puede ayudarte a evaluar los términos de tu empleo y determinar si fuiste despedido ilegalmente.
Además, un abogado laboral puede ayudar a encontrar testigos, reunir pruebas, negociar con tu antiguo empleador en su nombre para llegar a un acuerdo y si es necesario iniciar demanda y representarte en la corte.
¿Tienes más preguntas sobre las razones para un despido injusto en Estados Unidos? Cuéntanos en un comentario y haremos lo posible por ayudarte.